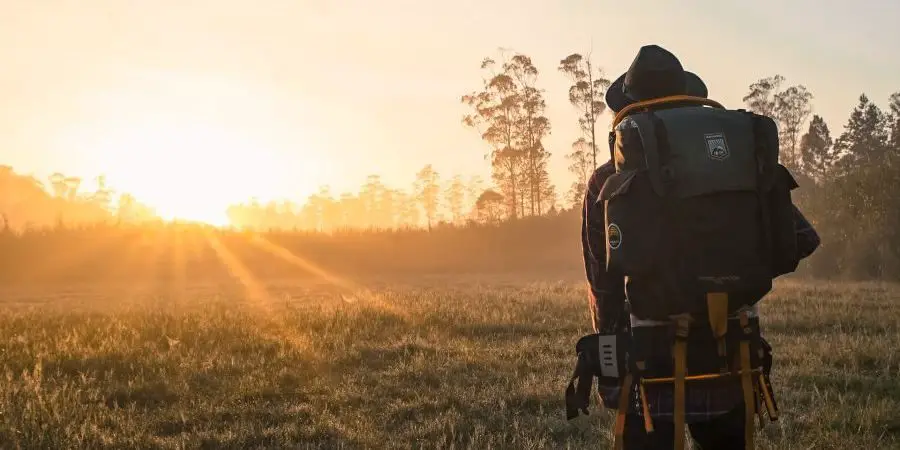 Whenever you are planning to go hiking or backpacking, you might like to know how much your sleeping bag weighs, since you will have to carry it. The information might be crucial, since you also have to carry a lot of other things with you while backpacking or hiking. Also, depending on the circumstances where you are going to stay at night, the ideal weight of the sleeping bag might vary. This is because a lighter sleeping bag usually has a smaller temperature rating than a heavier sleeping bag.
But how much does an average sleeping bag weigh?
The average sleeping bag weight is around 3.75 lbs (1.7 kg). The lightest sleeping bag in this comparison chart is 0.3 lbs (0.14 kg), and the heaviest sleeping bag is 14.0 lbs (6.35 kg). The weight of a sleeping bag correlates with the temperature rating of the sleeping bag. In most cases, a heavier sleeping bag can be used in lower temperatures. More filling in the sleeping bag allows it to stay warmer in cold weather conditions.
It is crucial to find a suitable solution when you are looking for a sleeping bag for hiking. Especially in extreme conditions, such as freezing weather, you would need a sleeping bag with an ideal temperature rate.
It may be hard to find the ideal option when scrolling through various web stores, since there are so many different options and prices. We have made it easier for you by listing 99 different sleeping bags (from low-cost sleeping bags to average-cost ones, with a couple of examples of the most expensive ones). You can find the following information for each sleeping bag: its weight, dimensions, temperature rating, and the price. Furthermore, there is a link for each sleeping bag, allowing you to find it easily in a web store. In this comparison chart, most of the links are for the Amazon and Ebay web stores. In addition, most of these links are affiliate links, meaning that if you decide to buy the sleeping bag by using the link provided on this site, I'll get a commission from your purchase.
Please note that the information is based on the product description provided by the website of the manufacturer or seller. In addition, the prices may change, so check the latest price by using the link provided. There might be errors, so make sure you confirm all details before purchasing any products!
Single Sleeping Bags
Sleeping Bags for Kids
How heavy should a sleeping bag be for backpacking?
The weight of the sleeping bag you should choose depends on many factors. Ideally, it would be great to carry a sleeping back that is as light as possible, but there are some factors that you need to take into account first.
First of all, you should think about the possible weather conditions on your backpacking trip. Obviously, you can never be exactly sure about what the weather will be like, but you should be able to estimate the possible coldest and hottest temperatures for your trip.
On the other hand, it is also ideal to consider your possible future backpacking trips. Can you use the same sleeping bag for all those trips, or will you need to get a different kind of sleeping bag for different types of conditions?
With this information in your mind, you can determine which sleeping bag temperature rating would be ideal in such conditions.
For instance, when you are backpacking in the autumn time, depending on the area, there might be some cold nights and some warmer nights.
Take a look at the average temperatures, as well as the possible extreme cold and warm temperatures, and select your sleeping bag with this information in mind.
So basically, the temperature rating is the first factor to look at, and the weight of sleeping bag is secondary, since you first want to make sure that you can stay in a comfortable temperature.
Also, the duration of the trip and your ability to carry heavy baggage with you may affect the decision.
If you plan to have a long trip, lasting for many days or even for many weeks, the overall weight of your backpack is essential to determine.
However, once again, the ideal emperature rating should usually be the first thing to determine when selecting a sleeping bag, and the weight should be a secondary matter.
How much total weight should you carry while backpacking?
According to Ultralightoutdoorgear.co.uk, 15 lbs is a good target weight for backpacking. Of course, the weather, other conditions during the trip, and the duration of the trip affect the total weight of the backpack, including the weight of the sleeping bag.
The most important thing is to prioritize which items you should take on your backpacking trip and which ones are really essential to take with you. You could start listing the things you need to take with you, in the order of importance, marking which ones are absolutely essential.
Obviously, a sleeping bag is a crucial item to carry with you, if you intend to spend a night or more outside.
How does the weight of sleeping bag correlate with the temperature rating?
The rule of thumb in most of the cases is: more weight, lower temperature rating (this is usually true, but there are some exceptions too).
It kind of makes sense. When there is more filling in the sleeping bag, it is heavier and insulates the heat even better.
However, this is not always the case. If you look at the comparison chart of the weight of sleeping bags below, you may notice that the sleeping bag (Snowy Owl EX -60) that has the lowest temperature rating (-60ºF (-51.1ºC)) weighs only 5.3 lbs (2.4 kg), which is not too much more than the average of this comparison. On the other hand, the price of this sleeping bag is way over $1,000.
How to determine the sleeping bag temperature rating?
Every sleeping bag should have a temperature rating. At least in the U.S. the temperature rating means the lowest temperature in which the sleeping bag insulation works sufficiently enough that it is possible to sleep comfortably. In some cases, the temperature rating is provided by the manufacturer.
There is also a standard called "EN 13537" which is most likely the most accurate system for providing a temperature rating. This is true because there is no other standardized rating system besides the EN standard.
Also, with the EN 13537 (EN stands for European Norm) standard, it's easier to compare different sleeping bags and determine which one you should select.
The EN standard classifies the sleeping bags in two rating groups:
Comfort rating indicates the temperature at which a cold sleeper might feel comfortable. This is the temperature rating brands use on women's bags.

Lower limit rating (which is always lower than the comfort rating) indicates the temperature at which a warm sleeper might still feel comfortable. This is the temperature rating brands use on men's bags.

Understanding Sleeping Bag Temperature Ratings
In most cases, the higher the temperature rating is, the lighter the sleeping bag is. That is quite natural since a sleeping bag used in warmer weather needs less filling than a sleeping bag suitable for cold weather.
What is the lightest but warmest sleeping bag?
When you are looking for the lowest temperature rated sleeping bag in particular, you might want to check out the Snowy Owl EX -60. It is known as the lowest temperature rated sleeping bag with thetemperature rating of -60ºF (-51.1ºC).
Does the lowest temperature rating also mean that this sleeping bag is the heaviest sleeping bag? Not in this case. The Snowy Owl EX -60 sleeping bag weighs 5 lb 4 oz / 2,4 kg, so the weight is just above the average.
Ultralight sleeping bag weight
The lightest sleeping bag with a reasonable temperature rating that I found is the Flicker UL Quilt Sleeping Bag.
It weighs only 1.64 lbs (0,745 kg), and the temperature rating is 20ºF(-6.67ºC), which makes it ideal to use even in winter conditions in some areas.
With an ultralight sleeping bag, you have more room to carry all the other things that you need for your trip. This way, not all of your energy is used in carrying around a heavy sleeping bag.
Smallest sleeping bag when packed
There are surely many options when looking for the smallest sleeping bag. However, if you want to have as small a sleeping bag as possible, it may mean that you can't use it in the coldest conditions.
For instance, an emergency sleeping bag is undoubtedly very small and light, but it is indeed designed only for emergencies.
Also, some sleeping bags that you can find for sale on the internet might not have all the details, such as the dimensions when packed, provided.
Therefore, finding the ideal sleeping bag might be difficult, when you are looking for an option that is very small when packed.
Of all the options I found, the smallest sleeping bag when packed, with a reasonable weight and usability, is the Ecoopro warm weather sleeping bag.
Compare the different sleeping bags and find out which one is ideal for your situation and for the backpacking trip you are planning to take.